Operations
Gary Sartorio
President
Growing up, Gary's dad was a car dealer and had someone trade in two Honda 50 mini bikes, one blue and one red. He remembers getting on them at 8 a.m. and not getting off until the street lights came on. Ever since, his passion for motorcycles has grown and six-years-ago he bought Calgary Harley-Davidson® because Harley's are the oldest and most prestigious bikes in the world.

His need for speed is evident from his two favourite bikes, the Trask Turbo Speed Glide and his Jim Nazi bar hopper with nitrous oxide. Some of Gary's most memorable riding experiences were his trip from San Diego on Hwy 1 in California almost all the way to Portland and riding through the beautiful countryside of Italy.

Gary loves riding his bikes and travelling Europe. He counts each day as a blessing and enjoys living life to the fullest as you never know when the good Lord will take it away.
Trevor Madore
Operations Manager
Trevor's first experience riding was when he was three-years-old and his parents put him on a dirt bike. Ever since then his passion to build and create has grown. For over 20-years Trevor has both ridden and built bikes. He is known for his custom work and designing the 2013 Road Glide custom or as the staff like to call it -the Bat mobile.

He loves the feeling of freedom he gets from riding a Harley-Davidson® and fully believes that it's a lifestyle for anyone. He is passionate about the brand and loves being able to take people's dreams and turn them into a reality.

Trevor will never forget the ride to Sturgis with his friends and recalls it as a trip of a lifetime.

Aside from riding, designing and building bikes, Trevor also likes to spend time with his family.
Administration
Treena
Administration
Treena's dream bike is a Sportster, she loves how authentic 70s throwback soul meets a modern ride.

In 2012 Treena transferred from Shaganappi GM who she had been with since 1990, and joined the CHD family. She loves Harley-Davidson® because it's a way of life, customers are here to fulfill their dreams and it's reflected in the staff that work here.

Her first ride was her most memorable one, when her and her now husband went on a ride together in 2014.

When Treena isn't busy at the dealership, she can be found camping when the weather permits, travelling as much as possible, quilting or spending time with her husband, plus she's an avid dog lover.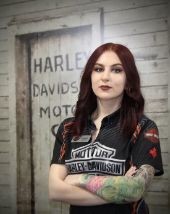 Alexa
Customer Relations
Although Alexa does not own a motorcycle, she's always loved the clubstyle look and she would love to ride a Low Rider S.

Growing up around bikers, Alexa has always been passionate about motorcycles and loves how Harley-Davidson® represents freedom. She sees it as a community for people from all different walks of life to come together for a common passion.

Her most memorable riding experience was the first time she got on the back of a bike when she was just 10-years-old.

When not working or learning how to ride, Alexa can be found enjoying craft beer or watching horror movies.
Alison
Customer Relations
The first time Alison was on a bike was on the back of a Honda Shadow when she was 10, but never had much interest in riding. She has worked in bars for the past 5 years, and after being offered an opportunity to work for a great company through a mutual friend of her Manager, She started her journey at Harley. She was drawn to the adventures and stories riders have shared with her, and decided it was time she learned how to ride so that she too can make some wicked trips. Alison recently learned how to ride on a Street 500, and will be going for her test before the end of summer. Outside of work you can find her (or try to) getting lost in mountain trails or painting in her studio.
Finance Department
Trevor
Finance
Trevor has been riding for so long he forgot when he started. He currently rides a Dyna Wide Glide and Road Glide. The most memorable experience he had was getting to take his son out for the first time when he was just four-years-old.

He's been in retail for the past 20-years and is really excited to be a part of the Calgary Harley-Davidson® family because Harley-Davidson® is the most badass brand to work with and for.

When he's not working Trevor can be found spending time with his family or playing poker.
Sales Department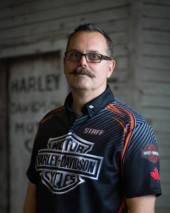 Tom
Sales
Tom has spent the last 25-years helping make Harley-Davidson® dreams come true. Growing up, his brothers always had bikes and he started selling Motorclothes® at the Harley-Davidson® downtown location in Calgary while attending university, and has been hooked every since.

Although he does not currently own a bike, Tom would love to own a Street Glide Special with an upgraded stereo. His passion for Harley-Davidson® can be summed up in these words: The sound. The culture. The people.

One of his best motorcycle experiences was meeting Eric Buell and getting him to sign his Buell XB9R.

Tom loves spending time with his family and loves listening to all genres of music.
Patrick
Sales
Patrick rides a 2020 Harley-Davidson Road Glide Special with all the CHD Customs parts and accessories. He's been riding for over 30-years and in the motorcycle industry for 16.

After buying a new bike from a friend at a dealership and hearing about what a fun job it was, Patrick decided to try it. He got a job in sales at the same dealership and has been selling bikes ever since.

Patrick loves Harley-Davidson® because the brand is iconic and believes we really do sell a lifestyle and considers himself lucky to work in such a fun and exciting environment where customers and staff feel like family.

His most memorable trip was riding the West Coast from Vancouver Island into Californian, inland to Reno, up into Southern Alberta and back to Vancouver Island – over 7000km!

When not selling motorcycles, Patrick can be found hunting, fishing, hiking, kayaking, mountain biking, camping, backpacking, practicing photography and travelling.
Katrina
Sales
Kat started riding only 5 years ago. She stumbled upon a Babes Ride Out ad and the following week got her license. A week after that she bought a friends '83 Honda Shadow and hasn't looked back since. After moving to Calgary in 2018, she was quick to get her first HD Sporty – a '17 Roadster. You can find Kat at local bike events around town and she is always down for an evening rip around the city. She looks forward to big trips, learning more about moto mechanics and being a part of the growing bike community here in Calgary!
Motorclothes® Department
Shay
Motorclothes® Manager
Shay's family has been involved in the motorcycle industry for 3 generations, including her mother and grand-parents, and the community of riders they surround themselves with quickly became like family. She hopes to inherit a 1992 Super Glide Custom that has been in her family ever since she was young. Shay's journey with Harley-Davidson began in 2002 when she participated in a "go to work with your parents" day. Six years later she began an 11-year career at that same dealership in Red Deer, AB. She is new to the city so on her free time she is often out exploring with her 2 dogs and taking in as much live music as she can.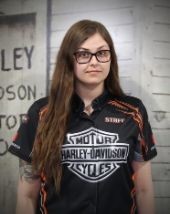 Tayler
Motorclothes® Associate
Tayler will tell anybody and everybody who will listen how badly she wants a mid-70's Shovelhead Chopper. Something about an old school springer front-end and a hardtail frame just speaks to her "Wheelie Nelson" soul. Motorcycles have been a part of Tayler's life since she was a little girl helping her aunt in her leather shop over the summer. Tayler says she has been fortunate enough to meet many people throughout her life with a passion for riding and she is grateful to call them life-long friends. The lifestyle and camaraderie are what drew Tayler to work for Harley-Davidson in 2017. Outside of work you can either find Tayler wrappped tighter than a burrito watching horror movies or out exploring new hiking trails in the mountains.
Parts Department
Rob
Parts Manager
Rob currently loves the feeling and comfort of riding his 2009 FLHX Street Glide. He has been working around bikes for the past 20-years and has been a part of the Calgary Harley-Davidson® family for six-years.

When Rob was nine-years-old his step-dad got him into motorcycles. His mom and step-dad would often ride together and travelled a good part of North America on their bikes. After years of riding on the back, Rob's most memorable experience was being able to ride beside his dad on their motorcycles.

To Rob, the Harley-Davidson® is an iconic brand – The American Dream – where people from all ages, backgrounds and lifestyles can be together because they all have the same passion.

When he isn't in the shop, you can find Rob riding his Harley or spending time with his three daughters and French bulldog "Big Mac".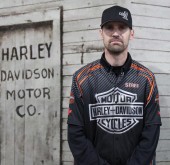 Dean
Parts
Dean rides a Dyna and has been riding for the past four years.

Ever since his ex-girlfriend got him into riding, he has been passionate about the Harley-Davidson® brand and loves the sound and feeling of riding a Harley.

One of his most memorable experiences was riding back home to Kelowna.

In his spare time, Dean enjoys skiing, skating, fishing, axe throwing, camping, hockey and bowling.
Lorelei
Shipping & Receiving
Although Lorelei does not own a bike, she will soon make her dream come true of purchasing an FLHTK . She's been working in the industry for the past two years and loves the people she works with!

She is happy her friend got her into the industry and loves that Harley-Davidson® is all about being a part of a family. Everyone is treated like a real family member and it's the sound of a HD that will put a smile on your face.

Outside of work, Lorelei enjoys home decorating, going for drives and spending quality time with family and friends
Service Department
Eric
Service Manager
Eric has been riding for 47 years and has been in the industry for 33 years. He rides a 2018 Road Glide® CVO™ in Gunship Gray. He started racing motorcycles when he was 16 and drag raced an 8 second drag bike. He then opened his first race shop and became a professional custom car/bike builder at the age of 18. He feels he is fortunate to have had the opportunity to race/build many brands of motorcycles but nothing compares to a Harley when it all comes together. Harley Davidson is Eric's passion in life. His most memorable riding experience has to be the amazing riding through the Black Hills of South Dakota. Eric says his building Rat Rods seems to be his peace and solitude.
Frisco
Assistant Service Manager
Frisco's family has been riding bikes since the 1940's. He started riding at the age of seven. His first Harley was a '78 Shovel. Motorcycling is in his blood.
Service Support Team
Ty
Technician
Ty rides a 1983 Sportster 1000 and has been working in the motorcycle industry for 6 years. He first got into riding by racing motocross. The excitement of riding bikes with a long history is what makes Ty passionate about Harley-Davidson®. His most memorable riding experience is riding the Sea-to-Sky Highway. Ty's favourite hobby is downhill mountain biking.
Jarrod
Technician
Jarrod has been riding bikes since he was just 5 years old. He began racing motocross at the age of 13 and was an apprentice at 15 with Harley-Davidson in Melbourne Australia. He is happy to be back with the iconic world-wide brand 26 years later here in Calgary.

He doesn't currently own a motorcycle but he would love to travel and get off the beaten path with an adventure bike. Jarrod's most memorable riding experience was in 2009 when he rode through the Rocky Mountains with Frisco.

Outside of work you can find Jarrod spending time with his gorgeous daughter, snowboarding, or jet-skiing.
Justin D
Techincian
When Justin was 6 years old he began riding dirt bikes with his dad. That turned into racing until he was 18, and now Justin rides a 2007 Sportster 1200 and a 2019 Honda CRF250R. When he was 10 his parents owned a powersports dealership and he has always loved Harleys and the custom world they bring. Outside of work he enjoys dirt biking with friends, garage projects, camping and the outdoors.
Pete
Technician
Pete started riding when he was a kid, and has had a passion for it since. He has been riding for 10 years, and has been in the industry for 3. Today Pete rides a 2008 Ultra Classic. He says he is passionate about Harley-Davidson because of the sound of the bikes and the great products. His most memorable trip was a 5 day cruise through the North Western USA. Outside of work, his passions are classic cars, and his grand-children.
Justin B
Techincian
Justin currently owns two bikes; a 2015 Ducati Monster 821, and a 2001 Suzuki GSXR-600. His dream Harley is a 2020 Fat Bob. He has been riding dirt bikes since he was a young teen. He is a third year apprentice and has been in the industry for 4 years.

Justin got into the industry by having a friend introduce him to street riding. The two friends worked in the apparel department of a dealership where Justin then got himself an apprenticeship.

He has always been passionate about motorcycles and believes that Harley-Davidson is the icon of the industry. He says there is nothing quite like the sound of an american v-twin. His most memorable riding experience was a winter get-away spent riding around Arizona and California with a couple friends.

Outside of work you can find Justin channeling his inner Ricky Bobby by transforming his GSXR into a track bike, or hitting the gym.
Davis
Technician
Davis has been riding for 7 years and currently owns a Sportster. He has been working in the industry for 2 years and his dream bike is a Dyna.
His most memorable riding experience was on a trip to Asia. He is passionate about Harley-Davidson because it is the most enjoyable ride.
Davis' favourite things to do outside or work are eat and sleep.
Authorized Rentals
Marion
Rental Manager
Marion comes from a motorcycle riding family. She will never forget the family reunion where her Dad and Uncle took a detour and bought a mini-bike for her cousins and her to ride.

She rode behind her husband Bill for a few years on his Harley-Davidson® before getting her first Sportster 883® 25 years ago. She moved to the Softail® and it is still her ride of choice.

Together with her husband Bill, she has taken many motorcycle trips including Northern Ontario, the Poconos, Blue Ridge Parkway, Cabot Trail, Sturgis and parts of Route 66 in California and Arizona. The Canadian Rockies and especially, the Highwood Pass is still their favourite ride.

Bill and Marion have two grown sons in St Albert, AB and Vancouver, BC and one "grand dog".
Bill
Rental Coordinator
Bill bought his first Harley-Davidson® motorcycle when he was 19 years old. It was a 1971 Super Glide ® chopper with a raked front end. He has owned many Harleys over the years and his ride of choice is the Street Glide® or Electra Glide® so he can listen to his tunes as he rides.

Bill is a licensed mechanic and has been working on Harley-Davidsons® for over 30 years.

Together with his wife Marion, he has taken many motorcycle trips including Northern Ontario, the Poconos, Blue Ridge Parkway, Cabot Trail, Sturgis and parts of Route 66 in California and Arizona. The Canadian Rockies and especially, the Highwood Pass is still their favourite ride.

Bill and Marion have two grown sons in St Albert, AB and Vancouver, BC and one "grand dog".